History
"Suddenly, I became aware of a whole new segment of society, and that these older people were struggling with some heavy burdens on their hearts. Why couldn't I be a catalyst to provide community to those people in Sarasota?" – Brother William Geenen, C.S.C., Founder of Senior Friendship Centers
Founded in 1973 by Brother William Geenen, a member of the Congregation of the Holy Cross (C.S.C.), SFC quickly led the way in developing innovative, cost-effective solutions to the challenges of aging. A belief in People Helping People focusing on volunteerism has shaped the organization since inception, creating a national model for the delivery of services to older adults.
Within short order, a network of senior centers begin to bring people together to enjoy a meal and activities. Meals were delivered to the homebound. Programs were added to help older adults live independently. Adult day services provided a safe and caring place for older adults allowing their caregivers to work or have a little free time. Healthcare for low-income seniors was addressed by clinics staffed by volunteer physicians, dentists, pharmacists, nurses, aides and other health professionals; these clinics became a national model for the delivery of healthcare.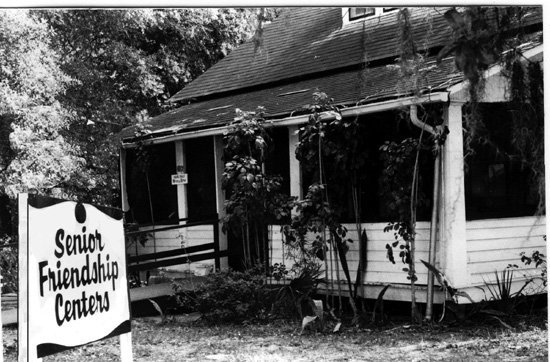 In 1991, Senior Friendship Centers began to develop the infrastructure to support its rapid growth. The SFC Foundation and endowment funds were established. Technology increased efficiency in reporting and operations. Education and wellness programs emphasized active and healthy aging. Friendship at Home, helping seniors at risk and Falls Prevention programs were added; and volunteerism was emphasized.
In 2009, a comprehensive approach to sustainable programming was implemented, along with a brand refresh, new logo, updated mission and website. Caregiver Resource Centers were added. Greater local competition for philanthropic dollars and increasing governmental funding limitations necessitated more efficient business models, including enhanced community partnerships to improve services and share costs. Fundraising efforts involved more grant writing and increased donor cultivation and stewardship to meet the need.
In 2020, the COVID-19 pandemic fast-tracked the need to move into the technology age, teaching seniors how to use phones, smart devices, and Zoom to connect, prevent isolation, and even exercise. Home-delivered meals and the Friendship at Home program became important resources for homebound seniors. A strategic alliance was forged with CenterPlace Health, a nonprofit in the healthcare safety net system, to operate the medical and dental clinics on Senior Friendship Centers' campuses. Affordable healthcare remains available to older adults, thanks to this strategic alliance.
Today, Senior Friendship Centers is at the forefront in developing innovative approaches to serve older adults and to help them discover ways to connect. While programs and services vary, what began in Sarasota County four decades ago now benefits tens of thousands of older adults residing in four counties: Charlotte, DeSoto, Lee and Sarasota.