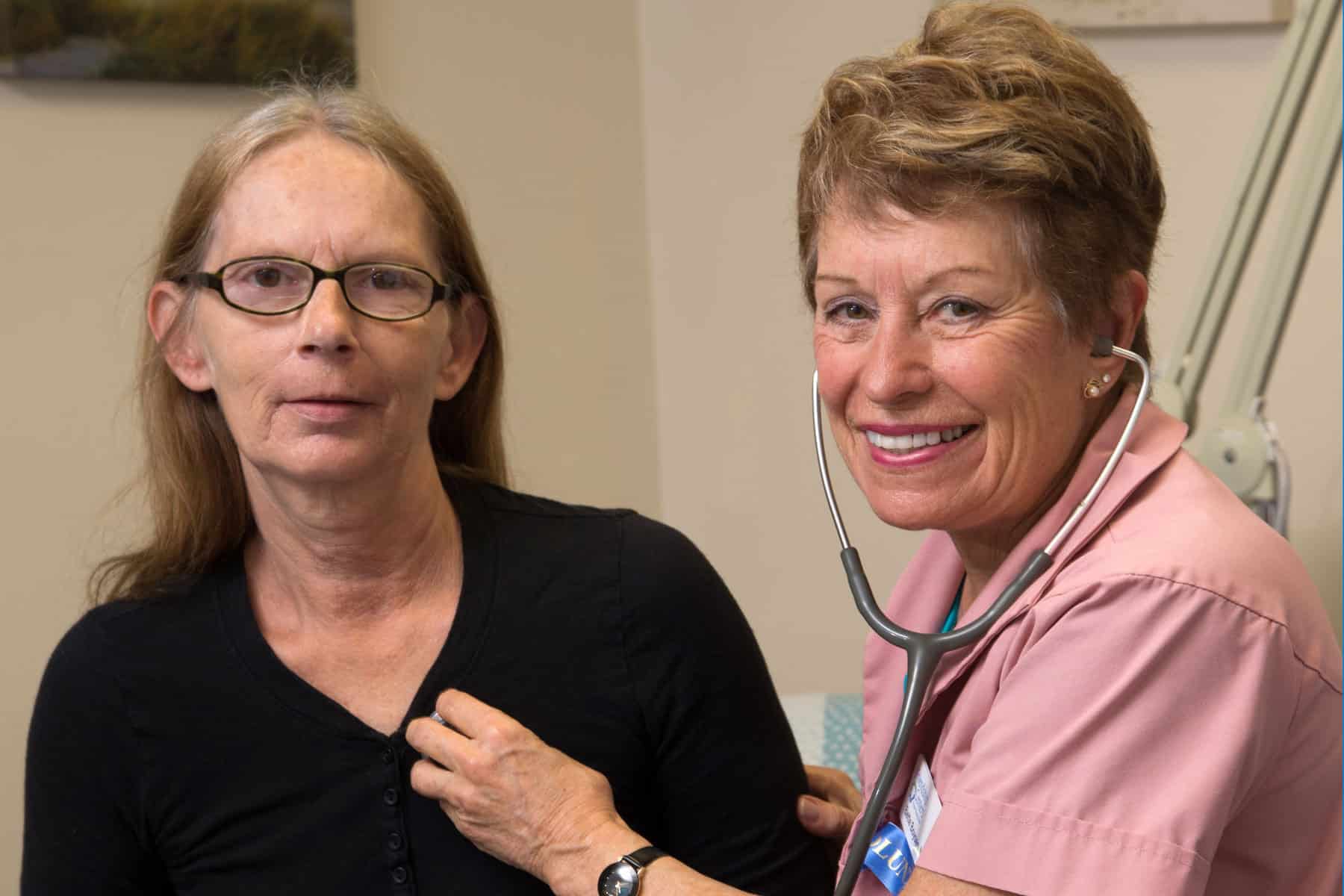 "Many of our patients haven't seen a physician or dentist in years, and they have significant needs. It makes me feel good when I can continue using my education and knowledge to help people."
 Dr. Bette Boysen, volunteer physician at the Pat Buster Health Clinic in Venice
Pat Buster Health Clinic
If you're a low-income resident of Sarasota County, 50 years of age or older and in need of dental or medical services, the Pat Buster Health Clinic, located on the campus of the Venice Friendship Centers, can help. Depending on your ability to pay, some of our services may be available at a very low cost, or no cost at all. We work with many different health plans, including Medicare and Medicaid, and can also help find medications at a reasonable cost.
Medical Services
Medical services include general physical exams and specialty consultations, in addition to referrals for lab work and advanced diagnostic testing. We treat chronic illnesses, such as diabetes, high blood pressure, arthritis and chronic obstructive pulmonary disease (COPD), as well as women's health issues. We do not treat chronic pain or provide chronic pain management services.
Our educational programs encompass breast and cervical cancer screening, healthy living with diabetes, and prescription assistance. Free health screenings are also offered by our corporate partners through our Activity Centers.
Venice medical specialties include:
Audiology
Gastroenterology
Gynecology
Neurology
Urology
Dental Services
Our Venice Dental Clinic is staffed by experienced professionals who have dedicated their lives to healthy teeth and gums. Many of our clients have neglected their dental care because of financial circumstances but at the Friendship Centers they can find the help they need, provided they don't have dental insurance and are not above the 300% Federal Poverty Guidelines. We provide general dentistry, prophylaxsis, limited oral surgery, dentures and partials.
Venice dental services include:
Cleanings
Fillings
Extractions
Dentures
X-rays
System of Care Collaboration
Our Venice clinics are staffed by volunteer physicians, nurses, dentists, dental hygienists and health professionals who enjoy practicing for the sheer love of medicine. We are part of a System of Care Collaboration, a partnership with the Florida Department of Health in Sarasota County and the Community Medical Clinic (CMC) at Sarasota Memorial Hospital.
The Friendship Centers is proud to serve as a training site for students (medical, nursing and allied health) from several local universities and colleges. Students working towards a career in health care are welcomed and benefit from the wisdom of medical experts who, in turn, enjoy the opportunity to mentor students.
Eligibility
In order to determine if you are eligible, you will need an appointment with our Eligibility Coordinator with the following information:
Photo ID
Social Security Number
Proof of Sarasota County residency – Proof includes one piece of mail in your name received in the last 30 days showing a Sarasota County address
Proof of Insurance (if applicable)
Verification of total gross household income
Additional information may be required on a case-by-case basis.
This list is for informational purposes only; please make an appointment with our Eligibility Coordinator to determine what information will be required of you. Hours are Wednesday, Thursday and the 2nd Friday of each month 8:00 a.m. – 11:30 a.m. and 1:00 p.m.  – 4:00 p.m. Appointments are available, for questions about eligibility call 941.584.0041.
You may download applicable forms below, complete them and bring them with you when you visit the Eligibility Coordinator.
Usted puede descargar los formularios que aplican a su situación usando los enlaces, completarlas y traerlas cuando visite al Coordinador de Elegibilidad.
 Location and Contacts
Pat Buster Health Clinic
2350 Scenic Drive
Venice, FL 34293
Medical : 941.584.0041
Dental: 941.584.0054
Medical & Dental Fax: 941.496.8627
Open Thursdays from 8 am –  4 pm
Bettyjane Thomas, Practice Manager
[email protected]@friendshipcenters.org
Liesea Haynes, Dental Clinic Coordinator
lhaynes@friendshipcenters.org